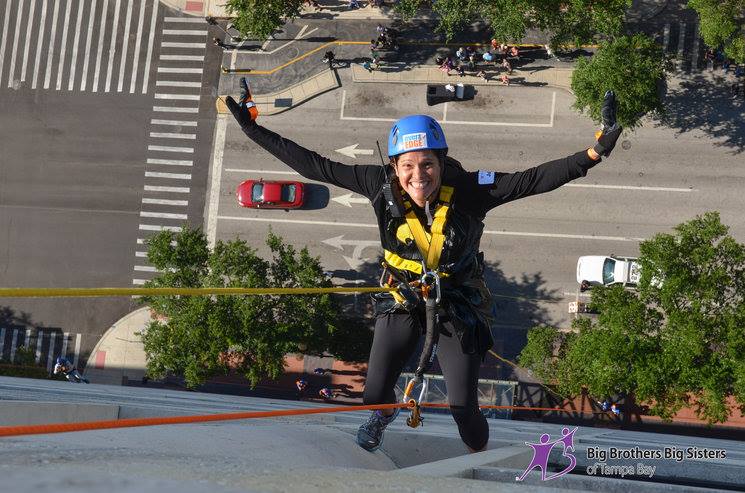 Raise money for Big Brothers Big Sisters of Tampa Bay for the opportunity to rappel down the Hilton Downtown Tampa hotel!
Over the Edge is a fundraising organization that partners with nonprofits like Big Brothers Big Sisters of Tampa Bay, to host rappelling events at buildings around the world. If you are a thrill seeker then this is the event for you! To join participants must pledge to raise $1500, which is the cost of maintaining a match between a mentor and mentee (Big & Little) for one year. This year's event is sponsored by CALE America & Paradise Ventures.
No experience is necessary to participate. Prior to rappelling for Over the Edge, you will have the opportunity to practice your technique and have a trainer walk you through your first few steps over the side of the Hilton Downtown Tampa. If you are an expert rock climber, be warned – this is not your typical rock climbing rappel! You will be strapped into a full-sized industrial harness and will use an industrial descender. But don't worry! You will be given a radio so that you can communicate with the trainers and technicians as you enjoy the view on your way down.
There will be 76 spots available to those who meet their $1500 fundraising goal. After you register here, you will be given all of the support you need to fundraise, including your own dedicated fundraising webpage, more information about Big Brothers Big Sisters of Tampa Bay, an informative strategy guide on how to maximize your donations, sample donation request letters, and more! There is no age limit to participate, if you are under 18 you need a signed waiver from a parent or guardian, and you must be between 100 & 300 pounds to participate. Be prepared, as the training and paperwork will take 60-90 minutes, but once you begin your descent the rappel lasts 10 to 15 minutes.
Do you think you have the guts to go Over the Edge? Then click here to register!
Still have questions or want to be a sponsor? Contact Dawn Kuhn at dawnk@bbbstampabay.org  or call 727-351-4669.