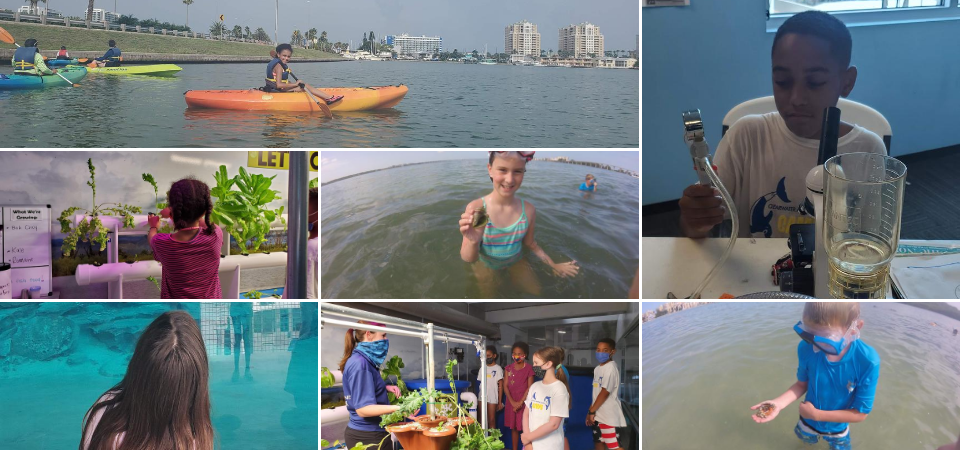 Through the generosity of the Ron Jon Surf Shop, five children from Big Brothers Big Sisters of Tampa Bay attended a week of full-day camp sessions this July at the Clearwater Marine Aquarium. The total value for all five campers was $2,500. Many of the selected campers had a previous affinity for the marine world. Watching their excitement throughout the camp was indeed a delight for Clearwater Marine Aquarium staff members. Additionally, as the children had spent the preceding months in quarantine, their experiences out in nature were amplified. 
Each morning, the campers attended the Ocean Warriors camp session, which focuses on habitat loss, plastic pollution, microplastics, overfishing, and bycatch. In the afternoon, the campers attended EcoExplorers, focused on fostering a love of the outdoors in children and instructing campers about the natural world. Unfortunately, due to the coronavirus, the off-campus field trips initially scheduled for the week were canceled. Still, the campers had a wonderful time exploring the Aquarium, Clearwater Bay, and the surrounding waterways. Littles received a "gear pack", including a Clearwater Marine Aquarium bag and beach towel, mask/snorkel, eco-friendly sunscreen, sunglasses, and of course, a Ron Jon water bottle! The children also received a camp t-shirt and free lunch each day. 
Campers
Little Brother: Nigel 
Little Brother Nigel is 11 years old and will be attending fifth grade this coming school year. Nigel has lived with his grandmother for over three years. He enjoys animals, nature, being outdoors, playing football, and Tai Kwon Do. 
Over the past few months, Nigel's activities have significantly curtailed due to COVID-19. He has been mainly staying at home and unable to see his Big Couple, which has left him very disappointed. His grandmother was thrilled about this opportunity to attend camp as it would allow him to spend time outdoors learning how to help the environment. Nigel lives in Clearwater, making it convenient for his grandmother to bring him to and from the Clearwater camp. 
At the beginning of the camp, Nigel was slightly overwhelmed by all the information he was learning! Toward the middle of the week, he began to soak everything in and truly began learning. Nigel is a tactile learner who prefers to examine specimens with his hands and collect materials from the natural environment. 
Little Sister: Jillayah
Jillayah is in fourth grade. Her mom thought the summer camp was an incredible opportunity for Jill because, since COVID-19, she had been despondent, missing going to school and spending time with other kids. It was also a fantastic reward since Jill did well academically last semester despite the many challenges with virtual schooling. 
Jill's Big Sister is an Environmental Scientist, so Jill's experiences at the Clearwater Marine Aquarium summer camp will help Jill understand her Big Sister's occupation and increase their connection. We hope this will provide various topics and conversations for the two to share during their monthly video chat session. 
Jill's transformation over the week was truly remarkable. On the first day of the camp, Jill was slightly apprehensive and incredibly nervous about kayaking. By the third day, she was kayaking at an expert level and displayed real leadership qualities, acting as a support system for her peers when necessary. Kayaking became her favorite activity at the camp. 
Little Brother: Jordan 
Jordan, a fourth-grader, had his recent activities curtailed due to COVID-19 with no plans scheduled for the summer. The camp was a welcome invitation for him as he is an extremely active child and always looking for adventure. 
Throughout the camp, Jordan adored being outside, and snorkeling was his favorite activity. He was a very inclusive group member, always sharing what he found when exploring with the other campers. Jordan would also bring in books from home related to topics they were learning at camp to show the other children. During an exercise to design a sustainable seafood menu, Jordan expressed his desire to serve shark at his fictional restaurant. Camp counselors educated him on the error in that decision, but it took some convincing! 
Little Sister: Aniya 
Aniya, a fifth-grader, has a real passion for aquatic life and was selected for the camp because she was interested in learning more about how to conserve the marine world. Like the rest of the campers, she was without any plans for the summer. She was very excited to participate in a camp that resonated so profoundly with her interests. 
Out of all the campers, Aniya was the most focused and had a genuine thirst for knowledge about the marine world. If the group became sidetracked, she was the one to bring us back to the center. She was genuinely fearless, whether that meant being the first to ask questions in the group or dive down and investigate while snorkeling. Kayaking was one of her favorite activities, but she also enjoying filtering water for microplastics.
Little Sister: Emma 
Emma is a very kind, friendly child with a deep affinity for animals. She is also a gifted student who takes a hands-on approach when learning new things. Learning about the interconnectivity of processes, such as ecosystems and the food chain, and how to better care for our environment – are areas that Emma likes to explore. Emma has also recently developed an interest in learning to snorkel. All of these interests made her a perfect candidate for the camp! 
While Emma was on the quiet side, she soaked everything in and asked incredibly insightful questions. When asked a question, Emma would provide the most detail of all the campers, illustrating that our lessons were indeed impacting her. Emma loved the aquaponics lesson and asked perceptive questions during the tour of the aquaponics exhibit.