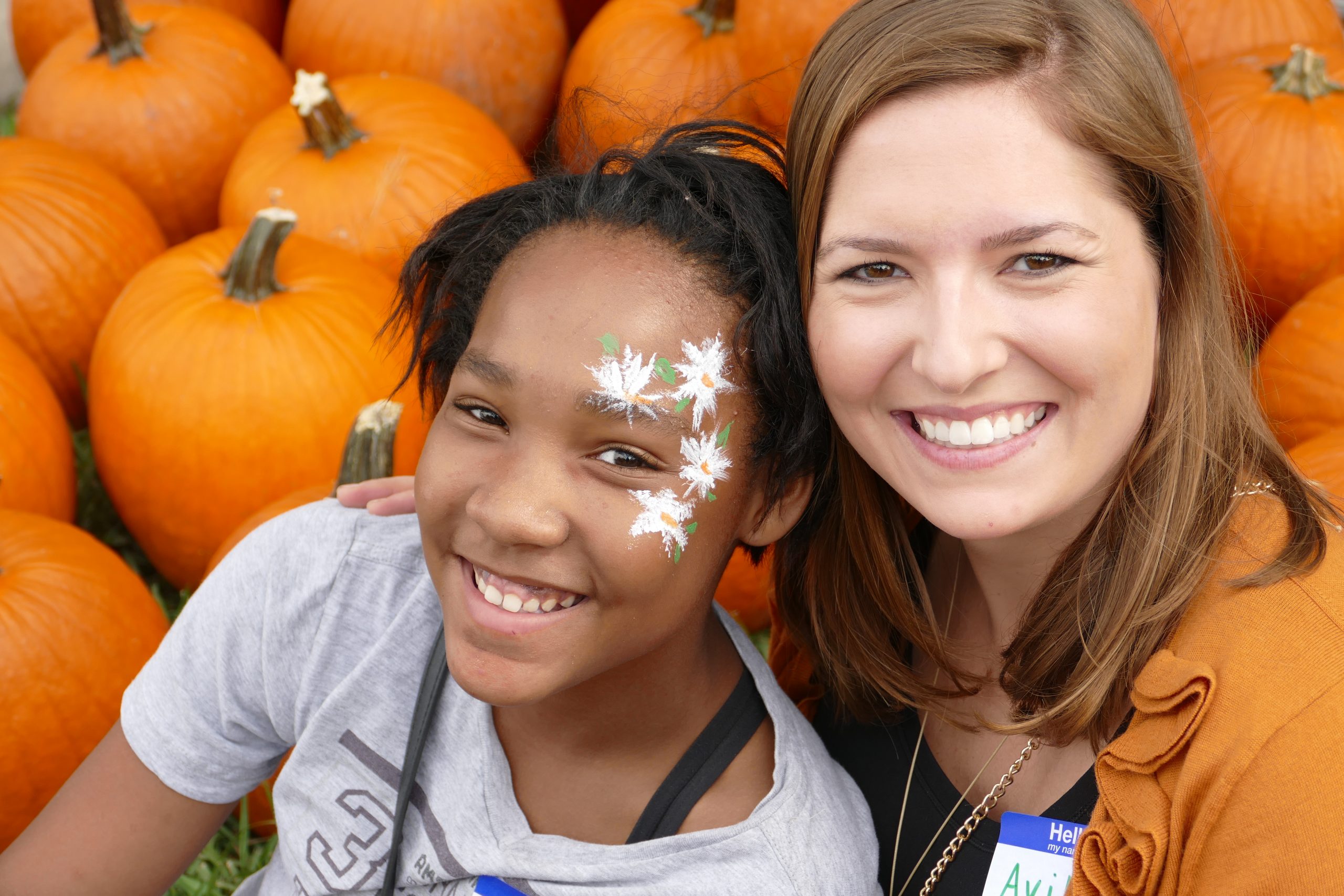 Do you need some ideas for things to talk to your Little about? Check out our Conversation Starters & Activities to help you and your Little learn about new topics and discover new hobbies and interests.
Do you want to learn what it takes to become a mentor and be a consistent friend for a kid in our community? Learn more at our Big Orientation & Training info session. View the schedule.
Conversation Starters
If you haven't done so already, talk your Little about their goals for the school year, academic, behavioral, and social.
The first quarter ends at the end of October. Ask your Little how they feel like they are doing in school so far. What could they do to bring grades up next quarter?
October 1 is World Smile Day: What makes you smile? Draw a picture of something that makes you smile. What do you to do make others smile?
October 8 is World Egg Day: Do you like eggs? How do you like to eat them? They are healthy and full of protein. How many animals can you think of that lay eggs?
October 14 is National Dessert Day: What is your favorite dessert? Ice cream, pie, cake, cookies?  Do you know someone who loves to bake? Do you like to help? What is your favorite thing to bake? Design a cake or a new, crazy flavor of ice cream.
October 17 is National Pasta Day: Spaghetti, Fettuccini, Ravioli, Macaroni. Do you like pasta? What is your favorite? Learn the history of pasta and teach your Little about it.
October 25 is International Artist Day: What kind of art do you like to do? Drawing, painting, making jewelry, music, poetry? Who inspires you to make art? Who do you know that makes art? Do you have a favorite artist? Show your Little your art and ask them to share their art with you!
October 31 is Halloween: Is your Little participating? If so, how? Dressing up? Trick or Treating? Remind your Littles about Halloween safety, such as staying with a group or adult, checking candy before eating, food allergies, safety while carving pumpkins, etc.
Talk about your favorite candy! Invent your own candy bars. Draw a picture of the wrapper design.
This is a spooky time of year with scary images and movies etc. What are some things that scare you? Spiders, snakes, ghosts, heights, the dark?  Ask your Little if they are afraid of anything. Share your fear with your Little
Activities
Backpack Organization: Assist your Little in getting organized. Have your mentee bring their backpack on your next outing and map out a homework/study/reading schedule.
Pumpkin Carving: Take your Little to a pumpkin patch and pick out a pumpkin so that you can both carve, paint, or decorate it in a new creative way together.
The Simple Things: Notice and savor the small stuff!  You can help your Little become aware of daily good by pausing to notice and "take in" the beauty of a sunset, appreciating a stranger holding the door open for you and your Little, stopping to admire a vibrant tree in the park, listening to birds sing, etc.
Send & Receive Postcards: Postcrossing is a project that allows you to send and receive postcards from people around the world. These are real postcards, not electronic!  Individuals from over 212 different countries are represented.
Zip-Lock Bag Water Refraction Halloween Activity: The Zip Lock Bag Water Refraction is a simple and easy but amazing experiment. You can make the picture disappear by just putting the zip lock bag into the water. The required material can be found in every home.
Homemade Caramel Apples: Make homemade caramel apples with your Little…fun to make but even better to eat!
Gratitude Journal: Listing out a few things we are grateful for each day can have a positive impact on our mood, attitude, and relationships, so start a "Gratitude Journal" with your Little for 30 days. Each day, list three to five things you are grateful for. Share with each other when you get together or periodically ask your Little, "How do you feel after you've written what you are grateful for?" Another idea is to simply integrate a "Gratitude Practice" by sharing things you are grateful for, either at the beginning or end of each outing, to create a ritual and opportunity to recognize, practice, and strengthen your gratitude muscle.
Make a Bird Feeder: Research birds in our area and what they eat; make a bird feeder and fill it up!
Free & Low-Cost Community Events
Virtual Cooking Classes: Christopher Kimball's MILK Street (from PBS) is offering a series of free hour-long virtual cooking classes for you and your Little! Please email cookingschool@177MILKSTREET.com for more details
Fall 2021 Schedule:
October 16th: Pasta Perfect
November 21st: Vegetables That Taste Great
December 12th: The World's Best Banana Bread (and Brownies)
October 1-3 – Hillsborough County Fair: 215 Sydney Washer Rd, Dover, FL 33527. Welcome to the Hillsborough Coun-ty Fair! Our annual county fair is held every fall. It is a celebration of community, agriculture, education, and exhibits! Livestock, rides, delicious food, live music, rodeo, derby, and lots more!
October 7 – Music on the Beach: Sunset Beach Concert Series: 1411 Gulf Road, Tarpon Springs, FL 34689. Join us for a great new Sunset Beach Concert Series. Concerts are once a month on Thursdays, February through November. You can park at the High School, catch the complimentary shuttle to the beach, enjoy the music and take the shuttle back. Concessions are available for purchase, or you can bring your own. Remember, pets and alcohol are not allowed, but your own food, drink, and chairs are. The music starts at 7 pm. Concerts are subject to change or cancellation due to weather.
October 16 – Multicultural Family Day: 1710 N. Highland Ave, Tampa, FL 33602. A free event for the entire family with live multicultural entertainment, food trucks, vendors, and much more!
October 16 – St. Petersburg Science Festival: Poynter Park, St. Petersburg, FL 33701. St. Petersburg Science Festival is a FREE community celebration of the wonders of hands-on science, technology, engineering, art, and math (STEAM). The 2021 public festival will be held on October 16 from 10 am-4 pm, at the waterfront campus of the USF St. Petersburg and Poynter Park along Bayboro Harbor. The event is held in conjunction with MarineQuest, the annual open house of the FWC Fish and Wildlife Research Institute.
October 16-31 – Riverwalk Halloween Hunt: The Tampa Riverwalk, Tampa, FL 33602. The Riverwalk Halloween Hunt is a family-friendly not-too-spooky virtual scavenger hunt along the Tampa Riverwalk. Individuals and teams will compete to be the first place Winner! Solve riddles, puzzles, and tasks while exploring the beautiful Riverwalk in this safe, outdoor Halloween activity fun for all ages. This event is free to the public. You must download the mobile app Mobile Adventures to participate (iOS & Android). Once the app has been downloaded, you will need to scan the QR code provided at the event to get started.
October 23-24 – Tarpon Springs Sponge Docks Arts & Craft Festival: Sponge Docks, Tarpon Springs, FL 34689. Arts & Crafts Festival in Historic Tarpon Springs Sponge Docks. More than 90 of the nation's top artists and crafters with Made in the USA creations. From jewelry to ceramics to plants to photography to paintings and homemade soap, something to please everyone.
October 26 – Owl-O-Ween: McGough Nature Park-11901 146th St, Largo, FL 33774. Stroll along the spooky, haunted trails at McGough Nature Park in search of bats, owls, ghosts, and goblins. Join us for crafts, games, and scary stories by the campfire. Preregistration and prepayment are required. Call 727-518-3047 to reserve your spot.