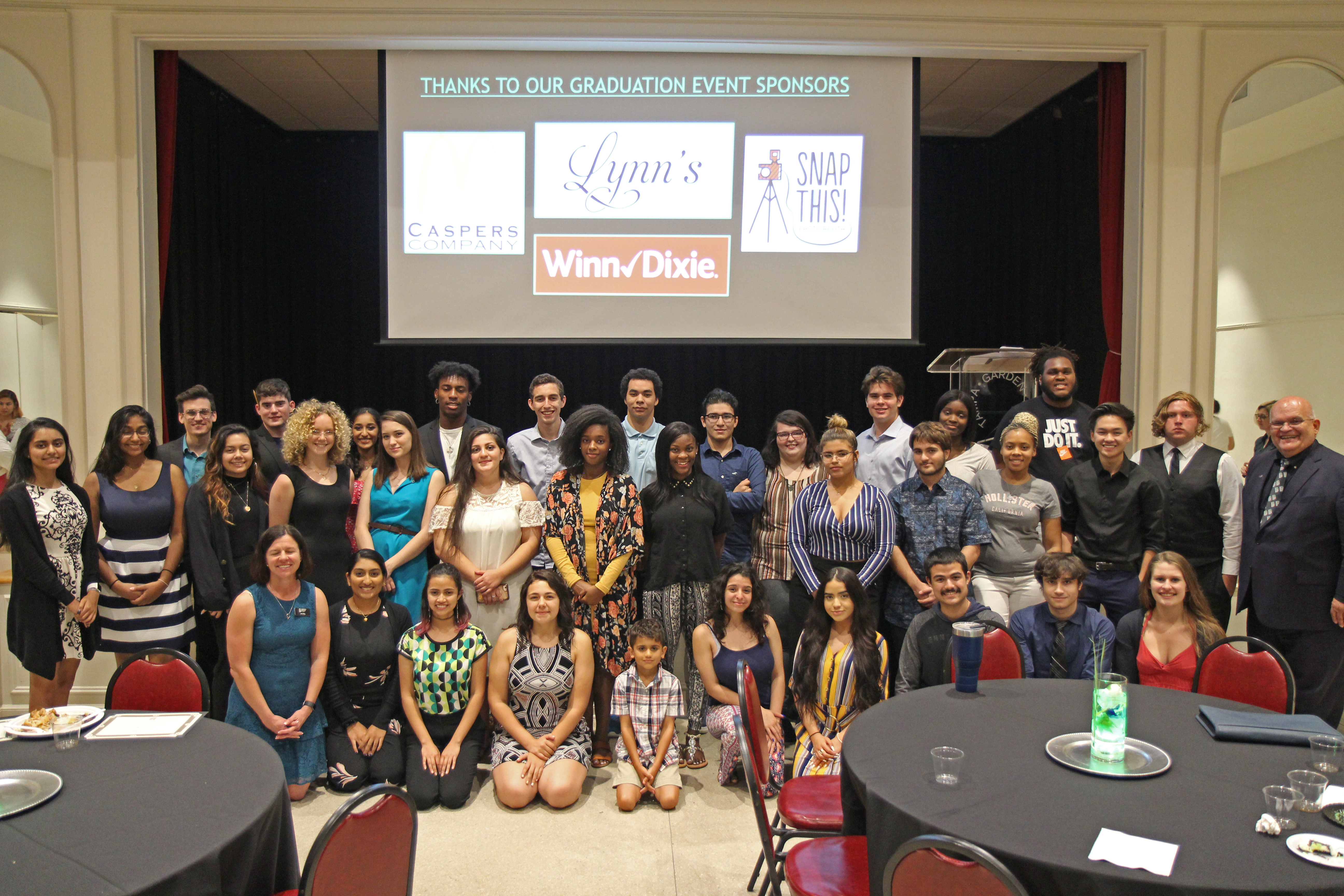 Each year, Big Brothers Big Sisters of Tampa Bay celebrates our Littles who are graduating high school with a graduation ceremony
Big Brothers Big Sisters of Tampa Bay has had an exciting time recently celebrating the high school graduation of Littles in our mentoring programs.
On May 1st, Leto High School had 17 students graduate from our School-to-Work program with Nielsen. The event featured the recently inducted mayor of Oldsmar, Eric Seidel, as the keynote speaker. Littles reminisced about the past year in the program, spoke about their experiences with School-to-Work that they will carry into the future, and awards were presented to those with perfect attendance. Nielsen also provided scholarships to two students, Jessica and Jonathan. Special thanks to Publix for donating a cake for the occasion.
View photos from the Leto and Nielsen graduation here.
On May 14th, we hosted our annual Graduation Ceremony for all graduating Littles, their Bigs and family members, at the Tampa Garden Club. Overall, we had 92 graduating seniors this year. Before the ceremony began, guests enjoyed the photo booth donated by Andrejka Photography. The evening started with a welcome from Jennifer Libby, VP of Programs, and Stephen Koch, President and CEO, followed by a delicious dinner catered by Lynn's Catering. Bob Conigliaro from Caspers Company was the keynote speaker and shared some sage words of wisdom for the graduates. Gerry Goldhammer represented the BBBS Tampa Bay Scholarship Fund and presented scholarships to four deserving Littles, Delaney, Damion, Nate and Bennie. The Live for 24 Foundation, who raises funds in remembrance of former Big Melissa Vanderhall, presented their scholarship to Little ZaDerricka. Each graduate was honored and recognized with a certificate and special BBBS Tampa Bay branded pen. The evening closed with a presentation from Dallas Ruffin, who announced our newest program, Big Futures, which will help support Littles beyond graduation to help ensure they succeed and meet their future goals. Everyone enjoyed the cake donated by Winn-Dixie.
View photos from the graduation ceremony here.
On May 15th, Middleton High School had 20 students graduate from our School-to-Work program with Moffit Cancer Center. Moffit provided graduation caps and gowns for the Littles to help make the ceremony feel authentic. The program coordinator at Moffit, LaWanda Courtney, spoke about her heartfelt match story with her Little. We had three graduating Littles speak about their experience in the program and how their relationships with the Bigs and all they have learned will carry with them into their futures. Scholarships provided by Valley National Bank were presented to two Littles, Lydia and Francesca.
View photos from the Middleton and Moffit graduation here.
We are so proud of all our graduating Littles and know that they will all go on to do great things in the future. Congratulations to the graduating class of 2019!