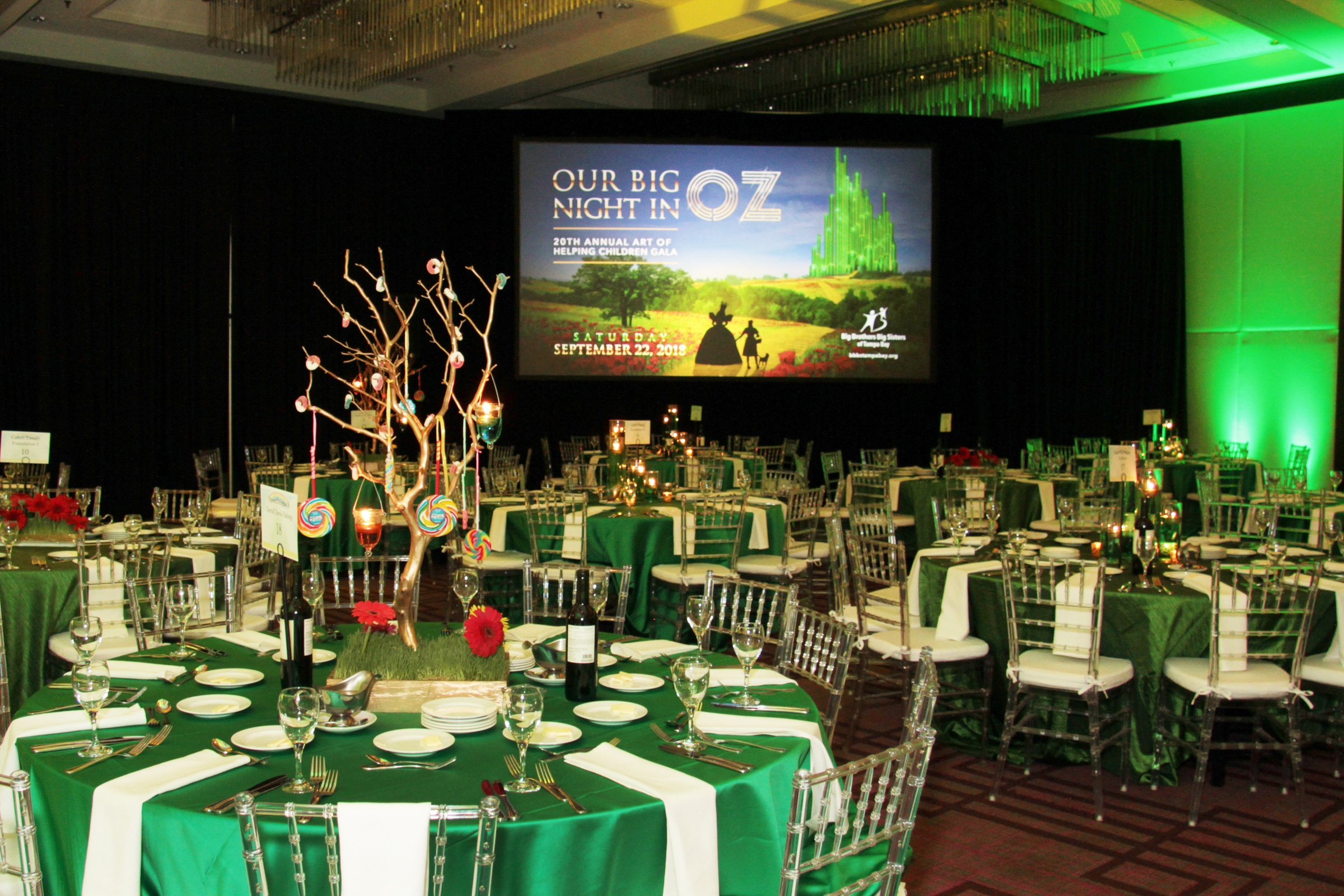 The annual fundraiser brought awareness to Big Brothers Big Sisters of Tampa Bay while transporting guests to a magical evening in Oz.
Click here for pictures.
Big Brothers Big Sisters of Tampa Bay celebrated their 20th Annual Art of Helping Children Gala fundraiser at Hilton Tampa Downtown to help raise funds and awareness for their mentoring programs in the local community through sponsorships plus a silent and live auction.
This year's theme was "Our Big Night in Oz". An estimated 650 guests were transported to a beautiful Emerald City-inspired room with the night's programs centering around the classic 1939 film "The Wizard of Oz". Attendees were greeted by actors portraying the Scarecrow, the Tin Man, the Cowardly Lion, Glinda the Good Witch, and of course- Dorothy.
The evening began with guests mingling and bidding on the silent auction with their mobile devices, and VIPs enjoying a special bar hosted by Republic National Distributing. Once guests were seated in the main ballroom for dinner they were greeted by the all-powerful Oz and interactive program on the video screens.
President and CEO, Stephen Koch, welcomed guests and thanked our Premiere and Big VIP sponsors with a very special video from kids in the Big Brothers Big Sisters of Tampa Bay mentoring program, called Littles. He and Board chair Richard Salazar also took the time to thank Board Members and Board Member Alumni for their commitment providing children facing adversity with professionally supported, one-to-one mentoring relationships that will change their lives for the better, forever.
The program continued with highlights featuring Big Brothers Big Sisters of Tampa Bay's newest mentoring programs. Nine new corporate partners for the School-to-Work program were recognized and they will spend time mentoring high school Juniors and Seniors in the workplace during the 2018-2019 school year. He also announced our newest mentoring program kicking off this fall called "Big Futures" to help Littles who have graduated from Big Brothers Big Sisters of Tampa Bay's mentoring programs be successful in college, their professional life, and beyond.
After dinner, Stephen Koch took the stage again to recognize the Bigs & Littles of the Year, Jessica Carter/Angie and Michael Ferrone/Tavoris. Then Brian Auld, President of the Tampa Bay Rays, highlighted the importance of Big Brothers Big Sisters of Tampa Bay's Bigs In Blue program where local law enforcement personnel spend one-on-one time mentoring a child at a local school for one hour per week. Brian then asked for the audience to invest directly in the programs and collected an impressive number of personal donations, close to $250,000!
An exciting live auction took place to raise critical funds for Big Brothers Big Sisters of Tampa Bay's youth mentoring programs. Live auction items included a meet & greet with Tampa Bay Buccaneers player Lavonte David, a wine weekend at Hidden Oak Inn Bed & breakfast in Sonoma – complete with private tastings with boutique winemakers, a day bass fishing with professional fisherman Darrell Davis, a stay in a multi-million-dollar home in Bermuda, and a mystery vacation where you choose the destination. After an evening of performances, auctions, a fabulous dinner, and inspiring programs, the evening ended with dancing to Lucky Penny band or more relaxed mingling in the after-party lounge sponsored by Sprinkles Cupcakes.
Thanks to all who attended the event and all the sponsors for making this amazing event a reality!
Want to help make an impact in the lives of children in the community? Donate to Big Brothers Big Sisters of Tampa Bay today!
And a very special thank you to our Premiere and Big VIP Sponsor!
Premiere Sponsors
Big VIP Sponsors
Cohen Family Foundation
Pamme & Joel Taylor
StevenDouglas & Darrell Davis Fishing