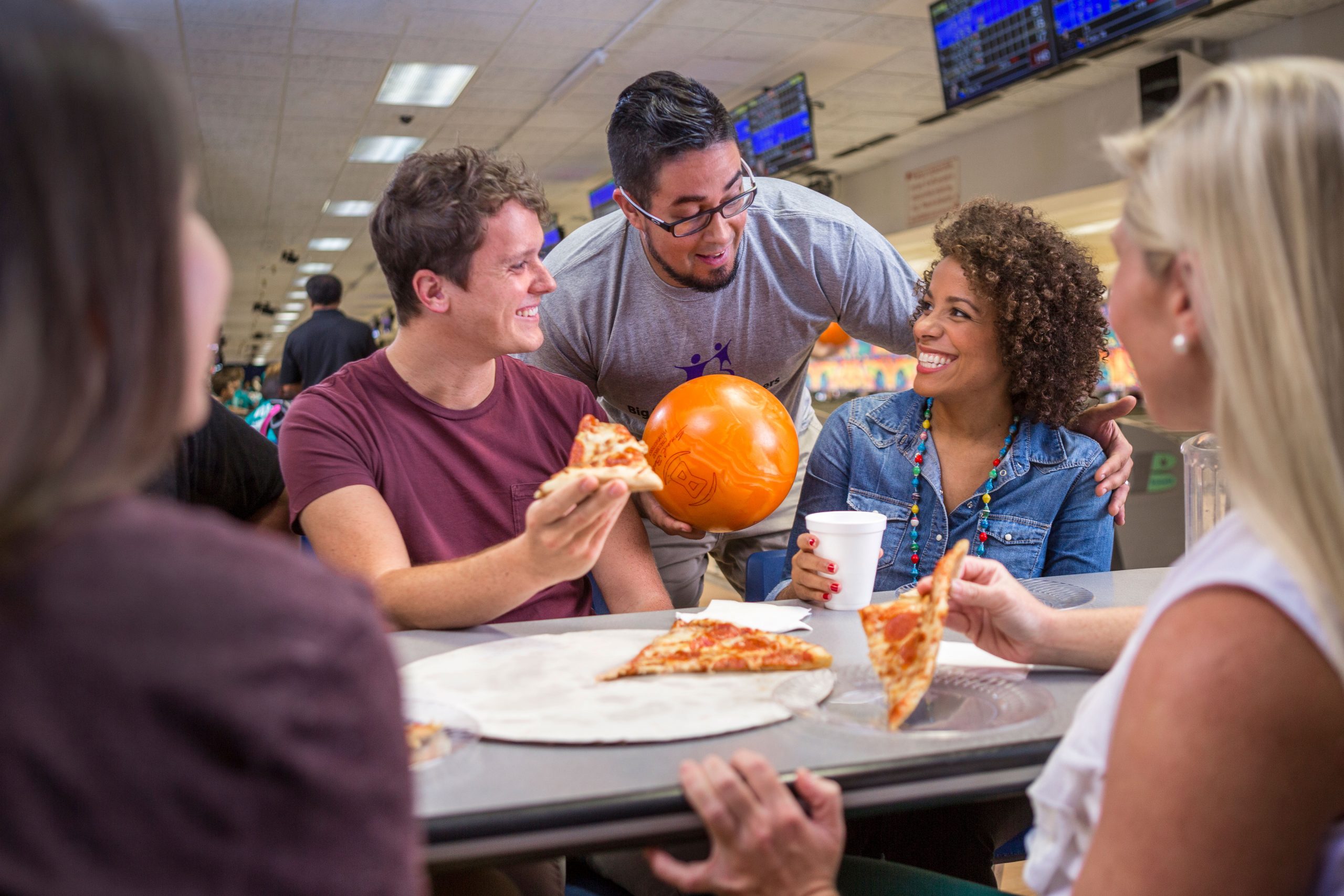 Big Brothers Big Sisters of Tampa Bay is proud to announce the start of our annual Bowl For Kids' Sake. Each year, we get together with our supporters for a few rounds of bowling while raising money to support our youth mentoring programs.
How to participate in Bowl For Kids' Sake
Getting on the lanes and supporting youth mentoring is as easy as one, two, three!
Visit our 

Bowl For Kids' Sake campaign page and register your team.

Recruit your friends and start fundraising. Invites your friends, coworkers, sorority sisters, or fraternity brothers to join your team. Each person gets a fundraising page to help raise money for your team. 

Celebrate your fundraising at a bowling party! You and your team will attend the bowling party at the date and location chosen when you registered your team. The party is the best part – not only do you get two bowling games, but you and your teammates also get T-shirts, pizza, and drinks, plus a chance to win raffles and auction prizes. 
Tips for Fundraising for your Bowl For Kids' Sake Team
Now, it may sound like it's all fun and games, but it is serious too. We are counting on the money we raise in this campaign to fund our mentoring programs that serve nearly thousands of children across nine counties. We need your help to make this a success. So once you've signed up, here are some tips to ensure you'll be the most successful with your fundraising.
1. Share your personalized team link with your friends, family, coworkers, etc.
They won't donate if you don't ask them, so ask them! A quick text asking if they'd support your fundraiser is the best way to get a donation. Share the link on your social media and ask your followers to show their support for a cause that means a lot to you. 
2. Try a Facebook Fundraiser
Facebook has made it extremely easy to fundraise, and it doesn't have to just be on your birthday. Be sure to include Bowl For Kids' Sake in the title so we know it's for your team. When the deposits come in, we'll make sure they get added to your fundraising page to keep track of your overall goal. Not sure how to set up a Facebook fundraiser? Check out this video on our YouTube for step-by-step directions.
3.
Add a Donation Sticker to your Instagram Story
Did you know you can also raise funds for Big Brothers Big Sisters of Tampa Bay on Instagram? It's as simple as adding a Donation sticker to your Instagram story. Share why you want others to help you support our mentoring programs in a video or image, add the sticker, and change the title on the sticker to your Bowk For Kids' Sake team name. Later offers a guide on how to use the donation sticker on Instagram stories.
4. Have a Bake Sale
Get in the kitchen and start baking! Maybe even bake some things to sell with your Little. You can sell them to your friends or neighbors or even find a location in front of a business that would allow you to set up a table. Be sure to get permission from a manager first. Get more ideas from hub's How to Plan a Bake Sale. 
5. Host a Golf Tournament
Make it casual or competitive by getting friends together for a few rounds of golf. It could be as simple as asking your friends to donate to your team and setting a tee time. Or, if you are looking to take your tournament to the next level, Golf Digest offers an easy guide for hosting a successful golf tournament fundraiser. 
6. Plan a Garage Sale
Do you feel like it's time for a spring cleaning? Why not sell those items collecting dust in your attic at a Garage Sale for Bowl For Kids' Sake. Set up some tables in your front yard or get your neighbors or teammates together to combine your fundraising efforts. Amy's Wandering blog shares their tips for planning a garage sale fundraiser. 
7. Organize a Bingo Night
Virtual bingo is a fun and safe way to socially distance while raising funds for your Bowl For Kids' Sake team. Invite your friends or host bingo for your coworkers. Check out our guide to hosting a virtual bingo.
8. Ask your Employer to Sponsor a Lane
What would be a better team-building activity than bowling for a cause in your community? Speak to your Human Resources department or manager and ask if they would support Big Brothers Big Sisters of Tampa Bay's Bowl For Kids' Sake. Or, your employer may offer an employee-giving program that will match a donation you make.  
9. Get Creative!
There are countless ways to raise money for your Bowl For Kids' Sake team. Get together with your teammates and brainstorm a list of fundraising ideas to ensure your team reaches its goal!
It's time to get out there and get fundraising for your Bowl For Kids' Sake team! Get started by registering your team on our Bowl For Kids' Sake campaign page.