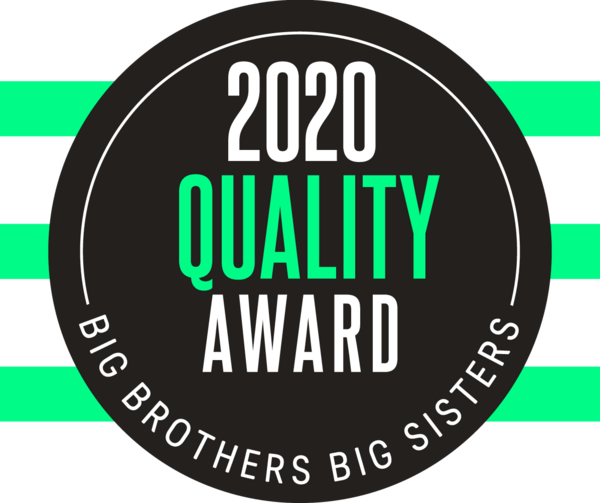 Big Brothers Big Sisters of Tampa Bay Receives 2020 Big Brothers Big Sisters of America Quality Award
The accolade acknowledges the agency's outstanding leadership and staff in implementing mentoring programs for local youth in the 7-county service area.
Big Brothers Big Sisters of Tampa Bay (BBBSTB) is honored to be awarded a 2020 Big Brothers Big Sisters of America (BBBSA) Quality Award Winner. The BBBSA Nationwide Leadership Council selects agencies every year for excellence in igniting the power and promise of youth with 1-to-1 mentoring and other key benchmarks. Throughout this past year's challenges, 49 out of the 236 Big Brothers Big Sisters agencies across the country received this honor.
"Over the past several months, I've heard from agency leaders in rural towns and metropolitan communities, those in the suburbs and every place in between," said Artis Stevens, President & CEO of Big Brothers Big Sisters of America. "And there's one theme I've noticed everywhere, and that's the power of resilience. We congratulate these agencies for earning these top honors. The level of commitment and dedication is outstanding with staff doing all they can to make sure our youth will not only survive these challenging times but thrive."
The Big Brothers Big Sisters national organization was founded more than 100 years ago and originally sprung from a need to offer an alternative path for youth facing the juvenile justice system. We still partner with the Juvenile Justice Department, but now focus on more proactive methods to keep kids on the right track. Our mentoring programs achieve measurable outcomes, such as academic success, avoidance of risky behaviors, greater confidence, and improved relationships. Our agency is proud to have served more than 2,400 children in 2020.
Big Brothers Big Sisters of Tampa Bay is to be formally recognized as a 2020 Quality Award Winner at the 2021 Virtual 'Bigger Together' National Conference held June 28 –July 1, 2021.