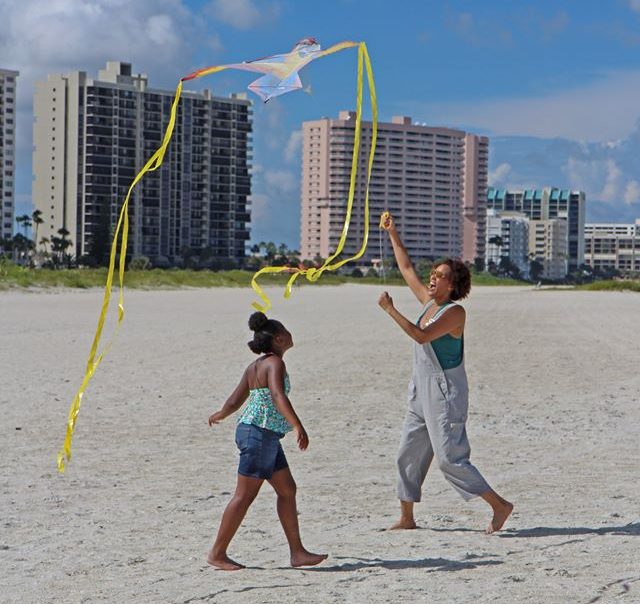 Back-to-School season is here, and with it comes the final days of summer. If you and your Little are looking for fun activities as they transition back to class, we've got you covered!
Community Activities
New School Year Goals: It's the start of a brand new school year! Help your Little write a list of a few goals they would like to work on this school year (i.e. read a book each week, join a club, organize backpack before bedtime, etc.)
Make Suncatchers: Brighten up your windows with homemade suncatchers! Learn to make handprint or leaf suncatchers.
Make a Gratitude Jar: Decorate and label a large jar together. Put notes inside with something you each are thankful for. Once the jar is full, take the notes out and read them together.
Create Your Own Board Game: Do you have a Little who enjoys playing board games? Grab some craft materials and work together to create your own fun board game!
Visit a Local Fire Station: Contact the fire department administration office to make an appointment for a station tour and chance to ask some questions about becoming a firefighter.
Make Book Covers: Purchase a couple of composition notebooks plus project supplies, and teach your little how to make fabric or paper book covers. Google instructions and get creative!
Create an "Animal Book": Using a binder or folder with paper, research a new animal each time you get together. Write down interesting facts, try your hand at drawing, and include other creative ideas for creating your own book about animals. You can pick animals in alphabetical order or however you see fit!
Fly a Kite: Pick up a kite from the store or make your own. Then, help your little release it into the air at the beach, a park, or the backyard.
Learn How to Play Disc Golf: Go to your local park and play disc golf with your little! Click here to view the rules of the game!
Back-to-School Events
Back-to-School/Hope in the Park: August 4th from 5pm to 7pm at 1875 Nursery Rd, Clearwater, FL 33764 Join Clearwater First Church of Nazarene for our Back 2 School Bash/HOPE IN THE PARK (we will be in the Gym – in air conditioning this month!!), School Supplies (while supplies last – child MUST be present), Games, FREE COMMUNITY DINNER, FOOD ASSISTANCE (while supplies last; no documentation needed) and lots of Family Fun (Free Inflatable, Games in the Gym). This event is for ALL AGES! Invite a friend! Click here for more details.
Back-to-School Bash: August 6th all day at Clearwater Beach Retreat Complex (69 Bay Esplanade, 51 Bay Esplanade, Clearwater, FL 33764) Get pumped for going back to school by playing games, eating some delicious barbeque and listening to live music at Morningside Recreation Center. Click here for details.
Back-to-School Backpack Giveaway: August 6th from 10 am to 11 pm at 1510 NW 4th St Ocala, FL 34475 To prepare for the new school year, join the community as students are handed free drawstring bags filled with school supplies. Click here for more details.
Community Events
Back-to-School Sales Tax Holiday: July 25th-August 7th Purchase qualifying back-to-school supplies exempt from tax during the 2022 Back-to-School Sales Tax Holiday. Qualifying items include- learning aids and jigsaw puzzles selling for $30 or less; most school supplies selling for $50 or less; clothing, footwear, and accessories selling for $100 or less; computers and accessories (when purchased for non-commercial and personal use) selling for $1500 or less.
Tarpon Springs First Friday: August 5th from 6pm to 10pm at 324 E. Pine St Tarpon Springs, FL 34689 A free family event held the first Friday of the month- featuring art, food, shops, and music, with a fun theme every month!
Wawa Summer Fun Day at Bok Tower: August 4th & 5th from 8am to 5pm at 1151 Tower Boulevard, Lake Wales, 33853 Bok Tower Gardens, in association with Wawa, is offering complimentary admission on the first Thursday and Frida of August and September. Click here for more details.
St. Pete Second Saturday Art Walk: August 13th all day at 2955 Central Ave, St. Petersburg, FL 33701 Every second Saturday of the month studios and galleries all over St. Pete swing open their doors, inviting anyone and everyone to check out their latest work for free! Meet the artists and gallery owners during this casual, festive evening as over 40 studios and galleries in the five Art Districts come together as one arts destination. Click here for more details.