Gasparilla Barrr Invasion
April 17 @ 12:00 pm

-

11:00 pm

$20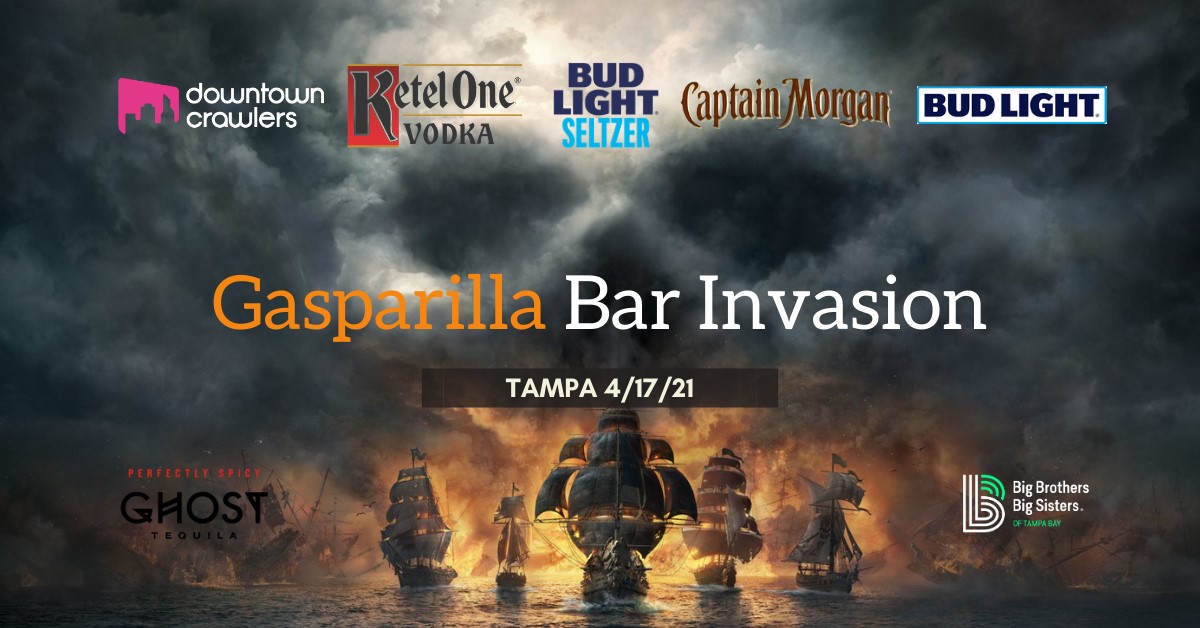 Arrr you ready for an INVASION??? GASPARILLA STYLE.
No Parade No problem. Downtown Crawlers is teaming up with Bud Light, Bud Light Seltzer, Ghost Tequila, and 15+ bars in Downtown and South Tampa to bring you the first-ever Gasparilla Bar Invasion. Get your Pirate costumes ready, assemble your crew and get ready to crawl. Let's get together to support local bars and plunder some of the fine beer, wine, and spirits Tampa Bars have to offer.
There will be multiple check-in locations to limit capacity, keep the crowd spaced out and Covid-19 safe.
Full details to come. There will be Block Parties, Games, Brunch Spots, DJ's and Live Music throughout the day at different bars.
---
Downtown Participating Locations:
District Tavern
American Social
Maloney's Irish Pub
La La's Sangria
Yeoman's Cask & Lion
GenX Tavern
Park & Rec TPA
more bars to be announced shortly
South Tampa Participating Locations:
Soho Saloon
The Patio
Thee Treehouse
Ducky's
World of Beer
more bars to be announced shortly
---
This Crawl is a little different from our past crawls, due to Covid-19 we will not be having any busses to take you to each bar. The crawl will feature multiple bars for you to check in at. You'll be able to check-in between 12 pm-7 pm. From there you can go visit each bar as you please for as long as you like. There are multiple ways to get around Downtown & South Tampa and from bar to bar. (Scooters, Bikes, Walk, Trolley, Downtowner, Uber, Lyft)
CHECK-IN LOCATIONS:
Downtown Tampa:
1.) Park & Rec – 290 S Meridian Ave (Check-in times 12 pm-7 pm)
2.) American Social – 601 S Harbour Island Blvd (Check-in times 12 pm-7 pm)
South Tampa:
3.) The Patio – 421 S MacDill Ave (Check-in times 12 pm-7 pm)
4.) Soho Saloon – 410 S Howard Ave (Check-in times 12 pm-7 pm)
---
WHAT YOU'LL GET!
 FREE Drinks – 5 free welcome drinks at 5 bars of your choice!
 FREE Entry to all participating bars
 Exclusive Food and Drink Specials in EVERY BAR!
 Bar Games – Win drink vouchers and more!
 COAST Bike/HOPR $10 OFF Promo Code.
 FREE Original Jel Shot
 FREE Fun – Stock up on happiness for the month ahead!
---
WHAT TO DO NEXT?
Get your ticket. Share with your friends. Bring your crew. Press go on your pirate ship and let the invasion begin.
During the Crawl, make sure to check out everything our partners will feature exclusively for the Crawlers.
Thanks to our friends at Hopr and Coast Bikes. Each participant will receive a $10 promo code to use on bikes that are stationed all over Downtown & South Tampa.
Love Tequila?? We got you covered with Ghost Tequila. Time to kick it up a notch. Their team will have tastings and shots at select bars for you to try along your journey.
The Original Jel Shot team will once again be on the Crawl handing out an array of colorful and delicious Jello Shots.
---
***Covid-19 Disclaimer: you will have to follow each bar's guidelines on Covid-19 precautions and rules. If a bar is too crowded you might be asked to come back at a later time. There is no guarantee that you'll get into every bar if they're at capacity at the time you're there. Thanks for your understanding ***
Let us take care of your weekend entertainment needs.
See you there!
Your Crawler Team
Related Events